It features some of the most unique designs in years for safety and rider inspiring designs. Polaris has done it again! I cant wait to see what they do with this base line  Maybe a ACE 1000 in the future? I could see a long travel suspension - turbo-Clutch kits- etc....ahhh the glory of when technology and a company that listens to what riders want.. and the Polaris Sportsman ACE is that solution for the rider that wants more! 
2014 Polaris SPORTSMAN ACE™ Polaris ATV Accessories Bumpers & Guards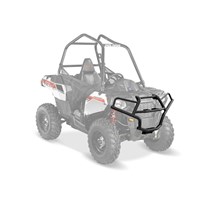 See Details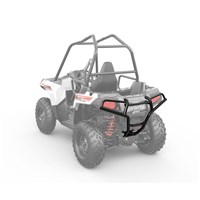 See Details
See Details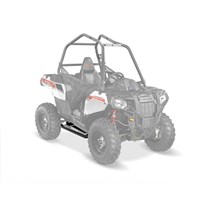 See Details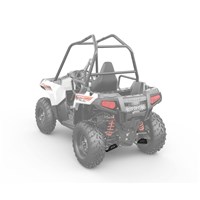 See Details
---
---
---
Specifications
2014 POLARIS® SPORTSMAN® ACE™ BRIGHT WHITE
---
Year 2014
Manufacturer Polaris®
Model NameSportsman® ACE™
Trim NameBright White
Generic Type (Primary)Sport
ENGINE
Engine Type4-Stroke Pro-Star Single Cylinder
Displacement32HP* Peak Horsepower, actual horsepower may vary
Fuel SystemElectronic Fuel Injection
CoolingLiquid
DRIVETRAIN
Transmission/Final DriveAutomatic PVT P/R/N/L/H; Shaft
Drive SystemOn-Demand True AWD/2WD
SUSPENSION
Front SuspensionMacPherson Strut With 8.2" (20.8 cm) Travel
Rear SuspensionDual A-Arm, Anti-Sway Bar 9.5" (24 cm) Travel
BRAKES
Front/Rear Brakes-
Parking BrakePark in Transmission
WHEELS & TIRES
Front Tires / Model25 x 8-12; 489
Rear Tires / Model25 x 10-12; 489
WheelsStamped Steel
DIMENSIONS
Wheelbase61.5 inches
Dry Weight835 lb
Overall Vehicle Size (LxWxH)-
Ground Clearance10.25"
Seat Height37" (94 cm)
Fuel Capacity5.25 gallons
Bed Box Dimensions (LxWxH) N.A.
Front/Rear Rack Capacity120 lb (55 kg)/240 lb (110 kg)
Payload Capacity575 lbs (261 kg)
Hitch Towing Rating1,500 lb
Towing Capacity-
Hitch/TypeStandard/1.25" Receiver
FEATURES
Cargo SystemLock & Ride
LightingHalogen, 55W low/ 60W high
Electronic Power Steering
InstrumentationDigital Gauge, Analog Speedometer, Odometer, Tachometer, Trip meter, Gear Indicator, Fuel Gauge, AWD Indicator, Hi-Temp/Low-Batt Lights, DC Outlet
---
Q:When will dealers be getting the all new Polaris Sportsman ACE in the dealerships?
A: We expect to have our first delivery in the next 45 days. this is a estimate. 
Q: How fast is the New Polaris Sportsman ACE.? You can achieve up to 50 mph on the Polaris Sportsman ACE.  (Rider-Terrain pay a factor) 
A: How safe is the Polaris Sportsman ACE?  It is rated top of its class . It has seatbelts-Roll Cage- And side doors to protect you in a misfortune. 
Q: Will the new Polaris Sportsman ACE come with accessories. 
A: You can buy the latest Polaris Lock and Ride attachments for this model. 
---
---